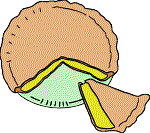 PUFFED APPLE PANCAKES
4 tablespoons (1/2 stick) unsalted butter, melted
4 large eggs, beaten to blend
3/4 cup milk (do not use lowfat or nonfat)
3/4 cup all purpose flour
1 Golden Delicious apple, peeled, cored, thinly sliced
1/4 cup firmly packed dark brown sugar
2 tablespoons lemon juice
Maple syrup
Preheat oven to 425°F. Place four 1-cup ramekins or custard cups on
cookie sheet. Pour 1 tablespoon butter into each ramekin. Combine eggs,
milk and flour and stir until just blended. Divide batter among
ramekins. Toss apple slices with sugar and lemon juice until coated.
Arrange apple slices in spoke pattern over batter. Bake until pancakes
are puffed and golden, 15 minutes. Serve with syrup.
Makes 4

Triple-Tier Chocolate Pie
Baked Pastry Shell
3 egg whites
1/2 teasoon vinegar
1/4 teaspoon ground cinnamon
1/2 cup sugar
1/2 of a 16 ounce package marshmallows (about 30)
1 cup milk
1 cup whipping cream
2 squares (2 ounces) unsweetened chocolate, coarsely chopped
1/8 teaspoon salt
1 teaspoon vanilla
1/2 cup chopped walnuts
For meringue shells, in a small mixer bowl combine egg whites, vinegar,
and cinnamon. Beat with electric mixer on medium speed till soft peaks
form. Gradually add sugar. Spread over the bottom and up the sides of
baked pastry shell. Bake in a 325 oven for 15 minutes. Remove from oven;
cool on wire rack.
Meanwhile, for filling heat marshmallows, milk, 1/4 cup of the whipping
cream, chocolate, and salt till marshmallows and chocolate are just melted.
Stir in vanilla; cool without stirring. Beat remaining whipping cream to
soft peaks. Fold the whipped cream and nuts into the chocolate mixture.
Chill till the mixture mounds when spooned. Turn into the baked meringue
shell. Chill till firm. Cover and chill to store.
--
Baked Pastry Shell
1 1/4 cups all purpose flour
1/2 teaspoon salt
1/3 cup shortening or lard
3 to 4 tablespoons cold water
In a mixing bowl combine flour and salt. Cut in shortening or lard till
pieces are the size of small peas. Sprinkle 1 tablespoon of the water
over part of the mixture; gently toss with a fork. Push to sides of bowl.
Repeat till all is moistened. Form dough into a ball.
On a lightly floured surface flatten dough with hands; roll from center to
edge, forming a circle about 12 inches in diameter. Wrap pastry around
rolling pin. Unroll onto a 9-inch pie plate. Ease the pastry into pie
plate, being careful not to stretch pastry. Trim to 1/2 inch beyond edge
of pie plate; fold under extra pastry. Make a fluted edge. Prick bottom
and sides of pastry with a fork.
Bake in a 450 oven for 10 to 12 minutes or till golden.

RICH 'N GOOD
CHOCOLATE TRUFFLES
1-2/3 cups whipping cream
1/2 cup (1 stick) butter
1 package (8 oz.) HERSHEY'S
Semi-Sweet Baking Chocolate, broken
into pieces and chopped*
1-1/3 cups HERSHEY'S Semi-Sweet
Chocolate Chips, chopped*
1 tablespoon vanilla extract or desired
liqueur
COATING (recipe follows)
1. In medium saucepan, place whipping
cream and butter. Cook over medium heat,
stirring constantly, until mixture boils;
remove from heat. Stir in both chocolates
until completely melted; continue stirring
until mixture cools and thickens slightly.
2. Stir in vanilla. Pour into shallow glass
dish. Cover; refrigerate 4 to 6 hours or until
firm.
3. To form truffles, with spoon, scoop
mixture into 1-inch balls; roll in COATING.
Cover; refrigerate until firm. Reroll before
serving, if desired. Serve cold. About 4 dozen
truffles.
* Food processor can be used for chopping
chocolate.
COATING: In small bowl, stir together 1/2
cup sifted HERSHEY'S Cocoa and 3
tablespoons sifted powdered sugar.

PINEAPPLE MUFFINS
1 can (8 oz) crushed pineapple (packed in juice)
1 egg white
1/2 cup skim milk
1/3 cup packed brown sugar
3 tbsp canola oil
1 3/4 cups all-purpose flour
1 1/2 tsp baking powder
1/2 tsp baking soda
1/2 tsp ground cinnamon
1/8 tsp salt (optional)
Coat 12 (2 1/2") muffin cups with no-stick spray and set aside.
Place the pineapple in a sieve over a 1-cup measure and press
with the back of a spoon to remove the excess liquid. Reserve
1/4 cup of the juice and set aside with the pineapple.
In a small bowl, whisk together the egg white, milk, brown
sugar, oil and reserved pineapple juice. Stir in the pineapple.
In a medium bowl, stir together the flour, baking powder,
baking soda, cinnamon and salt (if using). Add the pineapple
mixture. Stir just until moistened (the batter will be lumpy).
Spoon the batter evenly into the prepared muffin cups. Bake
at 400 degrees F for 13 to 15 minutes, or until the muffins are
lightly browned and a toothpick inserted in the center comes
out clean. Makes 12.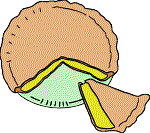 graphics courtesy
[Mountain Breeze Graphics]