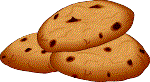 ALL PURPOSE COOKIE MIX
4c flour

11/4c sugar

11/4c packed brown sugar

11/2tsp salt

11/2c shortening

......mix dry ingrediants...cut in shortening until mixture resembles

a fine crumb mix

BANANA COOKIES

21/2c COOKIE MIX

1/2c mashed banana

1 egg

......heat oven to 350...mix all ingrediants...drop by rounded teaspoons

on ungreased cookie sheets....bake 12-15 mins....
PEANUT BUTTER COOKIES
2c COOKIE MIX
1/2c peanut butter
1 egg
1 tsp vanilla
.......heat oven to 350...mix all ingrediants...shape into balls on

ungreased cookie sheets...use fork to make criss-crosses...

bake 10-12 mins.....

21/2c COOKIE MIX

1 egg

1/2 tsp cinnamon

1/2 tsp lemon extract

1/2c raisins

.......heat oven to 350...mix all ingrediants..drop by rounded tesaspoons onto

ungreased cookie sheets.....bake 12-15 mins.............

THUMBPRINTS

1/2c softened butter

vanilla or chocolate cream filling

2/3c sugar

1 egg

1 tsp vanilla

1c flour

1/3c unsweetened cocoa

1/4 tsp salt

2 TBPS milk

1c chopped walnuts

.......in a large mixing bowl beat-butter,sugar,egg and vanilla until light

and fluffy...combine flour,cocoa and salt-blend into butter mixture...

add milk,beat until well blended...stir in walnuts...chill dough at least

1 hour or until firm enough to handle......heat oven to 350...shape

dough into 1 inch balls,place on lightly greased cookie sheets....

press thumb into center of each cookie...bake 10-12 mins or until set...

remove to wire racks to cool......to serve,place about 1/2 teaspoon

filling onto each cookie...store cookie in refrigerator...

VANILLA FILLING

3/4c powdered sugar

1 TBPS plus 1 tsp softened butter

2-3 tsp milk

1/2 tsp vanilla

.........in small mixer bowl,beat all ingrediants until smooth.......
CHOCOLATE CREAM FILLING
1 3oz package softened cream cheese
1/2c powdered sugar
2 TBPS unsweetened cocoa
1/4tsp vanilla
...........in small mixer bowl beat cream cheese and powdered sugar...
add cocoa and vanilla-beat until smooth...refrigerate if not using
right away........

RUGELACH
Makes 24 cookies
1 cup sifted all-purpose flour
1/2 teaspoon coarse salt
4 ounces (1 stick) cold unsalted butter, cut into bits
4 ounces cream cheese, cut into bits
2 tablespoons cold buttermilk
3 tablespoons apricot jam
1/2 cup dried apricots, chopped
1/4 cup granulated sugar
Pinch nutmeg
1 large egg white
1/3 cup almonds, coarsely chopped
2 tablespoons sanding sugar
Place the flour and salt in a food processor, and pulse to combine.
Add the butter, and pulse 10 times. Pulse in the
cream cheese until the mixture becomes crumbly. Sprinkle in the buttermilk,
and pulse until the mixture comes together when pressed.
Transfer the dough to a work surface, and divide into thirds.
Wrap each third in plastic, and shape into a
disc. Refrigerate discs for at least 3 hours, or overnight.
Heat the oven to 375 degrees. Line a baking sheet with parchment paper.
In a small bowl combine apricots, sugar,
and nutmeg; set aside.
On a floured board, roll out one of the discs to 1/8-inch thickness.
Using an inverted bowl, cut dough into a 7 1/2-to-8-inch circle.
Using a pizza cutter, cut the dough into wedges, dividing it first in half,
then into quarters, then into eighths.
Brush each section lightly with jam, and sprinkle with about 1/2 teaspoon
of apricot mixture, leaving the narrow ends clear.
Roll each cookie into a crescent shape, beginning at the wide end,
and place on the prepared baking sheet.
Brush each cookie with egg white, and sprinkle with almonds and then sanding sugar.
Refrigerate until firm, about 15 minutes.
Bake until golden brown, 18 to 20 minutes. Cool on a wire rack, and store in an airtight container. Repeat with remaining two-thirds of dough.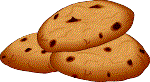 graphics courtesy
[Mountain Breeze Graphics]