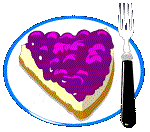 PUMPKIN CHEESECAKE
Crumb Crust:
1 cup graham-cracker crumbs
3 tablespoons margarine or butter, melted
2 tablespoons sugar
Pumpkin Filling:
2 packages (8 ounces each) cream cheese,softened
1 1/4 cups sugar
1 can (16 ounces) solid-pack pumpkin(notpumpkin-pie mix)
3/4 cup sour cream
2 tablespoons bourbon or 2 teaspoons vanilla extract
1 teaspoon ground cinnamon
1/2 teaspoon ground allspice
1/4 teaspoon salt
4 large eggs
Sour-Cream Topping:
1 cup sour cream
3 tablespoons sugar
1 teaspoon vanilla extract
crystallized ginger strips for garnish
1. Preheat oven to 350 degrees F. In 9" by 3" springform pan,
with fork, stir graham-cracker crumbs, melted margarine or butter,
and sugar until moistened. With hand, press mixture onto bottom of pan.
Tightly wrap outside of pan with heavy-duty foil to prevent leakage
when baking in water bath later.
Bake crust 10 minutes. Cool completely in pan on wire rack.
2. Prepare Pumpkin Filling: In large bowl, with mixer at medium speed, beat
cream cheese until smooth; slowly beat in sugar until blended, about 1 minute,
scraping bowl often with rubber spatula. With mixer at low speed, beat in
pumpkin, sour cream, bourbon or vanilla, cinnamon, allspice, and salt. Add
eggs, 1 at a time, beating just until blended after each addition.
3. Pour pumpkin mixture into crust and place in large roasting pan.
Place pan on ovenrack Carefully
pour enough boiling water into pan to come of springform pan.
Bake cheesecake 1 hour 10 minutes or
until center barely1 inch up side
jiggles.
4. Meanwhile, prepare Sour-Cream Topping: In small bowl, with wire whisk,
beat sour cream, sugar, and vanilla until blended. Remove cheesecake from
water bath, leaving water bath in oven, and spread sour-cream mixture evenly
over top. Return cake to water bath and bake 5 minutes longer.
5. Remove cheesecake from water bath to wire rack; discard foil. With
small knife, loosen cheesecake from side of pan to help prevent cracking during
cooling. Cool cheesecake completely. Cover and refrigerate cheesecake at least
6 hours or overnight, until well chilled. Remove side of pan to serve. Garnish
with crystallized ginger.
JUNIOR MINTS CHEESECAKE
6 oz JUNIOR MINTS
3 8oz pkgs cream cheese
1 tsp vanilla
2/3c sugar
3 eggs
graham cracker or chocolate crumb crust
......place Jr Mints in freezer...heat oven to 350...with electric mixer or food
processor,combine cream cheese and sugar until smooth...add eggs,one at a
time,beating well after each addition...chop cold mints and sprinkle onto
cheesecake.....bake 40-45 mins or until just set...cool on wire rack,then chill
several hours or overnight.......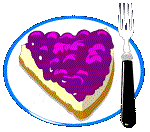 graphics courtesy
[Mountain Breeze Graphics]